2002 Polaris 700 Sportsman 4X4 Front & Rear Brakes Brake Pads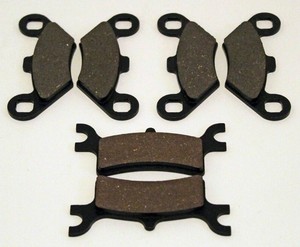 ---
template

2002-2007 Polaris 700 Sportsman 4x4

Front & Rear Brakes

THESE ARE A DISTRIBUTOR OVERSTOCK ITEM WE RECEIVED AT A GREAT DEAL ONLY A NUMBER OF PAIRS AVAILABLE

SEMI METALLIC COMPOUND

WE PURCHASE & SELL ITEMS THAT ARE OVERSTOCKS, RETURNS AND CLOSEOUTS FROM DISTRIBUTORS. 

ALL ITEMS ARE NEW AND USEABLE CONDITION BUT THE PACKAGING MAY BE RIPPED OFF OR IT IS A BRAND THE DISTRIBUTOR IS NO LONGER CARRYING.  ALL ITEMS ARE GUARANTEED TO FIT THE MODELS LISTED.